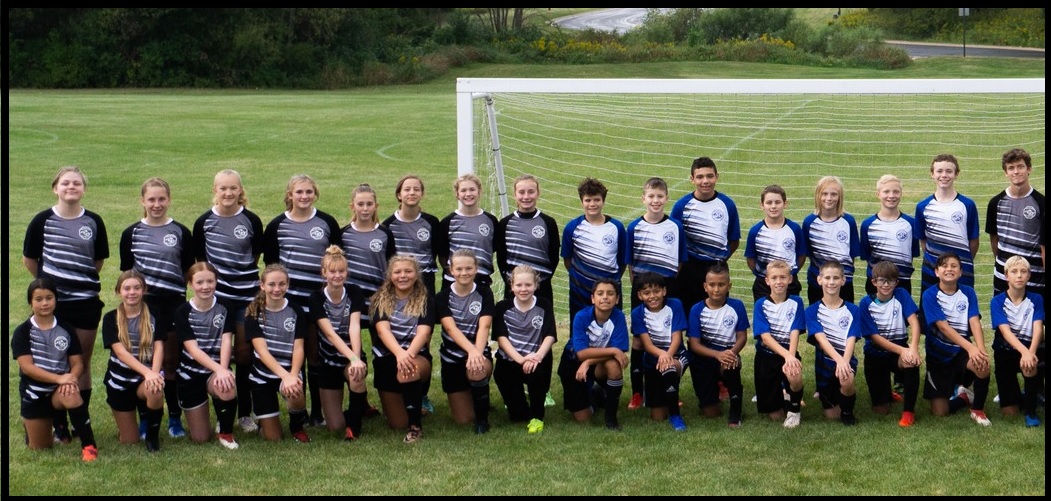 WSC Teams for the 2022-23 Fall Season
We have six teams total - 3 for girls and 3 for boys.
For the boys, from youngest to oldest, United is a team for boys 12 years old and younger (birth year 2011 and above). The Scorpions is for boys 14 years old and younger (including 8th graders, birth years 2008-2010). And the Academy boys team is for high school boys wanting to play on a club team in their high school offseason (Spring only).
On the girls side, the Velocity is for girls 12 years old and younger (birth year 2011 and above). Hydra is for girls 14 years old and younger (including 8th graders, birth years 2008-2010). And the Academy girls team is for high school girls wanting to play on a club team in their high school offseason (Fall only).
| Team | Gender | Age | Birth Year | Format | Coach |
| --- | --- | --- | --- | --- | --- |
| United | Boys | 12u | 2011+ | 9v9 | Brian Schmidt |
| Scorpions | Boys | 14u | 2009-2010 | 11v11 | Brian Schmidt |
| Academy Boys | Boys | High School | 2004-2008 | 11v11 | TBD |
| Velocity | Girls | 12u | 2011+ | 9v9 | Andrew Schoeneck |
| Hydra | Girls | 14u | 2009-2010 | 11v11 | John Deglow |
| Academy Girls | Girls | High School | 2004-2008 | 11v11 | Jeff Oiler |
Team Formation
Teams are formed to create an environment in which each player is challenged while also playing with players having equal desire and skill level.
Within the U10 – 19 age groups, teams will be formed by birth year. If there are enough players to form two teams at a specific age level:
Players will be required to go through an assessment performed by coaches not involved with the two teams.
The assessors will try their best to form the two teams evenly based on their assessments of the players.
The Director of Coaching is responsible for finalizing teams, with input provided by the Coaches.
All teams must be approved by the Board of Directors.
Play-Up Policy
All players will play on the teams designated by their year of birth. If a player feels strongly that he or she should be allowed to play for an older team, the request must be initiated with the Director of Coaching whose consent must be obtained.
In giving consent, the Director of Coaching shall consider whether the player:
Is dominant in his or her own age group.
Is ranked in the top 5 players on the team of the older age group, per review of the Director of Coaching and the older age group's Coach.
Is dedicated to the game and ambitious with past soccer experience.
Is able to achieve success in the older age group.
Is tactically strong enough to keep up with the older age groups speed and tactics.
Has a stable personality, gets along with others, and has a good attitude.
Is mature on and off the field.
Player Policy
Each player is expected to display respect toward coaches, referees, parents and opposing players. Disrespectful behavior (foul language, excessive physical contact, absenteeism) during practices and games is unacceptable. Unacceptable behavior could cause the player to be removed from team roster or asked to leave the club.
The use of any controlled substance or alcoholic beverage at or in the vicinity of any WSC function is strictly prohibited.
As representatives of the WSC, players are expected to learn, understand, respect the Laws of the Game and the referees who administer those laws. The decisions of the referees are final.
More specifically players are responsible for:
Giving maximum effort and concentration at all times.
Cooperating with the coaches and teammates at all times.
Being mentally and physically prepared for all practices and games.
Attending practices, games and scheduled team functions.
Notifying the coaches of any planned absences.
Arriving promptly at all team functions.
Obeying the rules and regulations set forth by the team and the WSC club.
Maintaining a clean and presentable condition of their uniforms.
Dedicating themselves to improving their individual and team soccer skills.
Each individual team shall determine its own policy regarding absences. However, it is suggested that illnesses, injuries, prearranged family vacations, special family circumstances, medical appointments, soccer camps and any other functions prearranged with the coach should be considered excused absences.
The failure of any player to comply with the individual team rules, with the rules outlined above or with the rules and regulations of WSC will result in disciplinary action being taken by the team and/or Director of Coaching. This could ultimately result in suspension or removal from the WSC team.
Team Rosters
Each individual team shall submit medical release forms (if not provided at registration), head shot photos, birth certificates to the WSC Registrar for submission and processing prior to a player being rostered to a team.
Once a player is listed on a WSC team, that player is bound to the team for the entire seasonal year. Transfers will not be granted for any of the following circumstances:
Coach
Playing time
Coaching style, tactics, etc.
Players on the team, parents, etc.
Under extenuating circumstances, requests for transfer must be submitted to the Board for approval. The Registrar will then process the transfer. The player is a member of his/her team until the player is notified of the decision. The player may practice or participate with any team other than the one to which he/she is legally rostered; assuming the player is attending their assigned teams' practices.
The Registrar will attempt to honor release requests made in a timely manner. Prior to any release being processed, the Registrar must verify that player is in good financial standing with the club and team.